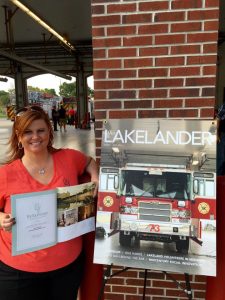 First, we offer our sincere thanks for your interest in the Bella Viságe blog. In this post we'll share part two of our story and why we absolutely love being a part of the downtown Lakeland community!
Our Website
After we had hired our lead aesthetician, Carrie Bradshaw, she heard the three of us discussing our want to build a website. We had already narrowed our list down to three companies, all of which are great choices, and some of them I even consider friends. It was then that Carrie mentioned two of her best friends were website designers and worked in downtown Lakeland. The next day we were sitting in the office of Mosier Data, meeting Brook and TJ Alcock. Carrie had told them about our spa and they already had some ideas to share that matched our vision. We never looked back. The job they have done for us far exceeded our expectations, and we now consider them friends, too.
Fixtures & Furnishings
Just a short walk down Traders Alley and a quick turn up Kentucky Ave is a very charming store, Simple Vintage. We were in a pinch one day and needed some finishing touches to be completed on several of our pieces we were going to use in the spa. Enter Nicki and Kim. The very next day they showed up and completed our pieces. Being lovers of all things vintage and shabby chic, we felt as if we had found heaven via downtown Lakeland in their store. Now Bella Visàge is peppered with furniture and fixtures that we found at Simple Vintage. We absolutely love their vibe!
The Lakelander
While there are many downtown businesses that have supported us and welcomed us with open arms I want to mention one more that has stepped to the plate, The Lakelander Magazine. Jeanna has known Curt and Deb Patterson quite a few years, from church. I met Curt several years ago and knew he was the "Lakelander guy." One morning I was heading down "The Alley" and Curt comes out and we start chatting. I tell him that we are opening a spa in a couple of months, and since that moment Curt and Deb have supported us and prayed for us.
Thank you downtown Lakeland!
All of us at Bella Viságe are very thankful for the warm welcome that we have received from all of our downtown Lakeland neighbors. Thanks for taking a few minutes of your time to get to know us better. Talk to you soon.[/fusion_text][/one_full][separator style_type="none" top_margin="10″ bottom_margin="10″ sep_color="" border_size="" icon="" icon_circle="" icon_circle_color="" width="" alignment="" class="" id=""][images picture_size="fixed" hover_type="none" autoplay="no" columns="5″ column_spacing="13″ scroll_items="" show_nav="yes" mouse_scroll="no" border="yes" lightbox="no" class="" id=""][image link="#" linktarget="_self" image="https://bellavisagelakeland.com/wp-content/uploads/2016/04/bellalakelander-1.jpg" alt=""][image link="#" linktarget="_self" image="https://bellavisagelakeland.com/wp-content/uploads/2016/04/simplev-300×170.jpg" alt="simple vintage lakeland"][image link="#" linktarget="_self" image="https://bellavisagelakeland.com/wp-content/uploads/2016/04/10923507_898029156922594_3800744987296365622_n.jpg" alt="TBA Marketing TJ Brook Alcock "][image link="#" linktarget="_self" image="https://bellavisagelakeland.com/wp-content/uploads/2016/04/Screen-Shot-2016-04-28-at-7.19.18-PM.png" alt="lakelander magazine bella visage"][image link="#" linktarget="_self" image="" alt=""][image link="#" linktarget="_self" image="" alt=""][image link="#" linktarget="_self" image="" alt=""][/images]
https://bellavisagelakeland.com/wp-content/uploads/2016/05/lakelander.jpg
217
452
Bella Visage
https://bellavisagelakeland.com/wp-content/uploads/2022/11/Bella-Logo-2021-Navy.png
Bella Visage
2016-05-06 22:57:46
2018-07-02 17:13:44
Why locality is the heart of Bella Visage – Part 2