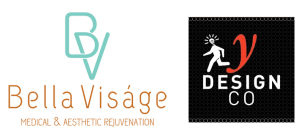 Welcome!
This is the beginning of our blog where we are going to post on skincare, rejuvenation procedures, massage therapy and general health and wellness. However, in our first few blogs, we're going to share some of the things that have happened to allow us to open Bella Visàge. At first glance you might think, "What does an article on business relationships have to do with skincare?" But locality is the heart of Bella Visage and well, if you don't have the basics in place you can't be successful.  For example, we can provide you with the best skincare products in the world, but if you continue to put the wrong things into your body, you won't get the results you are looking for. The same thing would've happened if we didn't get the base of our business built with strong, reputable, local partners; we wouldn't be able to serve you.
Our Logo
With that in mind, let me share a few of the things that have taken place. When we started to put together the idea of Bella Visàge, we knew that there was a specific look, feel, and brand that we wanted for the spa. We also knew that we didn't have the time or ability to do it on our own. Enter Y Design Co. I'd met Jared and Katie Yates several years ago through Lakeland Business Leaders. Knowing that Jared created logos, he listened to us as we shared our vision and ideas for the space. We explained how we were going to use specific furniture, doors and fixtures that had been saved from my dear friend Joe's house, and about why we chose to use some antiques from our own house.
Local helping Local
Jared began his design process, he spent time with us in the spa as it was being renovated. After several  weeks he shared the fruits of his labor, and wow! We absolutely loved the completed work. The concept, the colors, the fonts, the BV monogram. It was all better than what we ever thought. Our logo and overall brand identity is the first interaction the public has with Bella Visàge, whether it's on our front door, our shirts or our website, and we are proud to bear the image Jared crafted for us. His vision has become one of the first pieces of the intricate Bella Visàge puzzle.
The Heart of Lakeland
It really is a great example of how a small business can work with another small business to help them get started on the right foot. Y Design Co. is firmly planted in the heart of Lakeland (Jared's a native Lakelander) and is active in the Lakeland business community. Thanks, Jared and Katie, for your hard work and support!
Stay tuned for our next blog where we'll introduce a few more of our great downtown partners and friends!
https://bellavisagelakeland.com/wp-content/uploads/2016/04/bella-y.png
329
708
Bella Visage
https://bellavisagelakeland.com/wp-content/uploads/2022/11/Bella-Logo-2021-Navy.png
Bella Visage
2016-04-29 01:12:13
2018-07-02 17:15:47
Why Locality is the heart of Bella Visage Lakeland